Head Developer
Staff member
Para ajustar o Evento PVP no jogo é necessário digitar o comando //pvpevent no chat
Irá aparecer na tela do menu principal mostrando as regras para todos os eventos.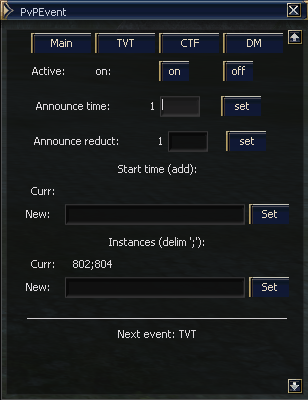 Interpretação dos campos:
Code:
Active - whether they are all On Off
Code:
Announce time - time that will announce the start of the Event
Code:
Announce reduct - time after which the administration will post Announce
Code:
Field Start time (add) - in a time when you add will run all Events.Example:
12:00;12:30;13:10;14:40
Code:
Field Instances - enter into it are instances in which the events. The default is 802;804. And enter in the Instances.
h3. Tabs for individual configuration's Event
All game events are set in separate tabs - TvT / CtF / DM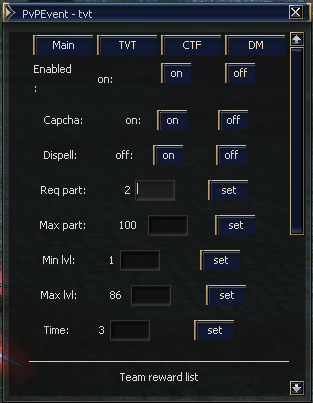 The interpretation of the fields:
Code:
Enabled - whether the event at all to start
Code:
Capcha - Se CAPTCHA está habilitado para registro
Code:
Req part - O número mínimo de participantes para iniciar Evento
Code:
Max part - maximum number of participants in the event
Code:
Min level - número máximo de participantes do evento
Code:
Max level - O nível mais alto dos participantes

Just below the adjusted awards: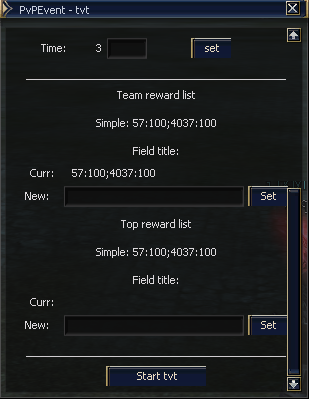 Fields:
Code:
Team Reward - campos para os quais prêmios serão dadas todas as equipe vencedora. Exemplo: 57: 10,000 or more an item 57: 10,000; 4037: 1
Code:
Top Reward - campos para os quais prêmios serão dadas um jogador da equipe vencedora, que fez mais Kills do que qualquer um. Example: 57: 10,000 or more an item 57: 10,000; 4037: 1

Mais opções em que você pode configurar server_variables.sql