Head Developer
Staff member
To adjust the PvP in the game's Event is necessary to enter the chat command //pvpevent
You will appear on the main menu screen setting rules for all the events.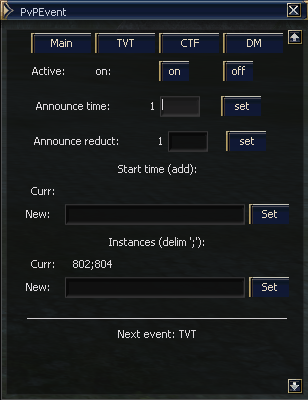 The interpretation of the fields:
Active - whether they are all On Off
Announce time - time that will announce the start of the Event
Announce reduct - time after which the administration will post Announce
Field Start time (add) - in a time when you add will run all Events.Example:
12:00;12:30;13:10;14:40
Field Instances - enter into it are instances in which the events. The default is 802;804. And enter in the Instances.
Tabs for individual configuration's Event
All game events are set in separate tabs - TvT / CtF / DM

Fields:
Team Reward - fields for which prizes will be given all the winning team. Example: 57: 10,000 or more an item 57: 10,000; 4037: 1
Top Reward - fields for which prizes will be given 1 player in the winning team, who did more than anyone Kills. Example: 57: 10,000 or more an item
More tunes you can find in sql - server_variables.sql
Last edited: